Here's a list of ideas to help you plan your birthday. They are useful for any kid's birthday party, even if you don't happen to hire a magician.
Birthday Party Idea #1
Attach a bouquet of balloons to your mailbox or your front door. This makes it a breeze for parents trying to find the house. This also helps the entertainer, and anyone else who may be helping out on the child's special day.
Bonus Tip: Let the birthday child choose the colors for the balloons. Having the child participate in the birthday party planning is awesome for their self-esteem and self-confidence. Besides, kids really do want to help out.
Birthday Party Idea #2
Protect your pets! Keep dogs, cats etc. separated from the party area. All it takes is one child to be bitten, knocked over, or scared to ruin the birthday party. These days allergies are also often a concern.
Birthday Party Idea #3
Get the whole family involved in the birthday party planning. Sometimes siblings feel left out when the celebration is for someone else. Have an older child act as the photographer, or introduce the entertainer when it's time for the show. Another might collect all the presents as children arrive.  They could also help prepare refreshments, invitations etc. Be creative with your kid party ideas and have fun.
Birthday Party Idea #4
Food doesn't have to be difficult. It's often best to serve Easy to handle food such as hot dogs or the kids favorite, pizza!
Juice boxes are still the all time parents favorite. Another great idea is to put out all the fixins & let the kids make their own banana splits or ice cream sundaes.  Paper plates/bowls & plastic silverware will make cleanup easy. This is a favorite kid party idea with the young ones.
Birthday Party Idea #5
Prepare your child for the party! It's amazing how often the birthday child doesn't really know how to behave. Be sure your child knows how you would like them to answer the door, greet the guests and receive the presents. Discuss acceptable behavior for the party.
Birthday Party Idea #6
Do you want Entertainment? Hiring a magician or other entertainer makes the party experience memorable.  But
how do you find an entertainer that will do an excellent job for you? In days past you'd crack open the phone book. That still works, but today the best bet is to look online. Top professional entertainers will have a web site which contains valuable info about themselves and their entertainment.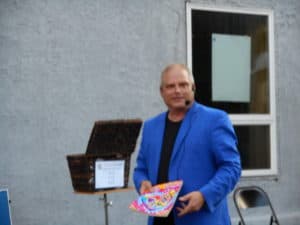 It's usually best to deal directly with the entertainer, rather than a booking agent. With a booking agent, you can't really be confident that you'll get a quality entertainer for the big day. The booking agent will usually book first and then begin looking for talent.
Ask how long their show is and find out if there are different packages or extras etc. Most magic shows run 30 to 45 minutes. If the entertainer also offers balloons or games or something else, the time is longer. Remember -- this is your chance to relax!
Birthday Party Idea #7
Try to have all the children ready to watch the performance at the time you agreed on. A top performer will likely be doing other birthday party shows that day and will need to maintain a schedule. It's important too that the children have no toys, noisemakers, etc.. in their hands. These can be a huge distraction in your birthday party planning.
Birthday Party Idea #8
It's very important (but these days, often forgotten) to send thank you notes to all the guests. Another super idea for a kid's party is to take a photo of the birthday child and each friend. You can then include a snapshot of the birthday child and each guest with the thank you note. You can even have the birthday child help make the thank you notes/cards. Your child will learn from an early age the importance of thank you notes and the parents of all your guests will love them.
Birthday Party Idea #9
If you are planning an outdoor kids party, be sure to have a back up plan in case of rain or other weather issues.
Birthday Party Idea #10
Plan out the schedule! I've found that it's best to have the entertainer perform first. Kids are so excited. After the entertainment most parents like to have food or cake, followed by games (if the games are not integrated into the show). If you feed the kids before the magic show, some slow eating children might not be finished eating and this could be a distraction for the performer. Often it's best to open the presents last. Recently many parents are choosing to open the presents after the guests leave, which avoids any embarrassing moments, like getting duplicates, etc. But kids also love to see everything that the birthday child got.
BONUS TIP:
Be sure to plan a relaxing evening for yourself after the party. Get some takeout for dinner and pop in a DVD. When the party's over, you can relax and enjoy the peace and quiet without having to think about cooking!
You'll have just thrown a fantastic party – and you deserve a break!
If you live in the Philadelphia area and are looking to book a magician for your kids birthday party, please check out my kids magic birthday show page at  https://dzmagic.com/birthday-party-magic.html