Montgomery County, PA Magician
If you are planning a special event in the Montgomery County area, you'll find your ideal entertainment in Montgomery County magician Rick Dziekan and DZ Magic. Rick has been ethralling audiences in the Philadelphia, Pennsylvania Suburban area for many years.
Each and every performance is customized to suit your needs by the magician, Rick Dziekan. This assures that your event will be fun and entertaining as well as easy for you. Below, we have listed several performance options available in Montgomery County and surrounding areas. If you are interested in something a little different, just ask!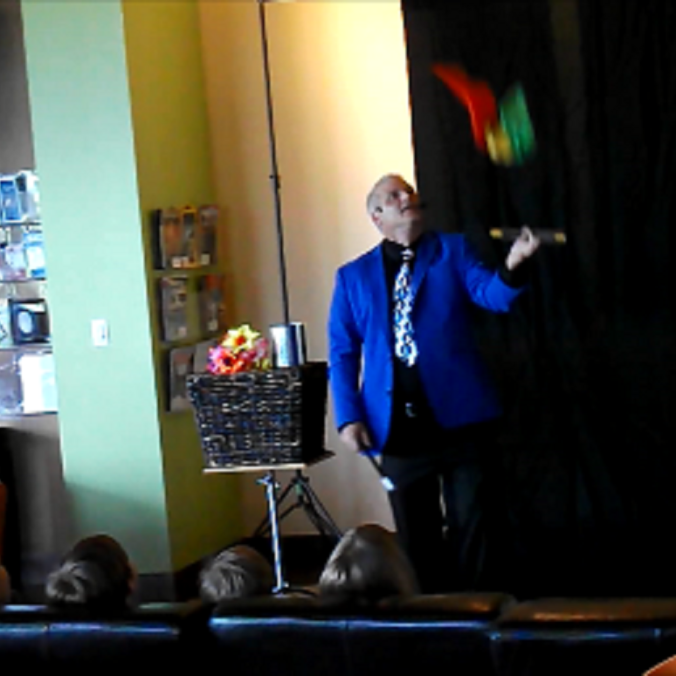 Your VIP is the Star of the Show
Whether it's a birthday child,  grandmom, a special volunteer, or anyone else you'd like to honor, Rick will ensure that an effect is incorporated into the magic show which makes them the star of the show. They will have the opportunity to be on stage and make the magic happen. This makes for worderful photos that can and will be shared on social media opportunity and will be remembered forever!
Magic Like Never Before with Rick Dz in Montgomery County, PA
🎩✨ Introducing Rick Dz: Montgomery County's Premier Magician ✨🎩
If you're in Montgomery County, PA, and you're seeking an unforgettable magical experience, look no further! Meet the magical maestro, Rick Dziekan, popularly known as Rick Dz. With years of enthralling audiences in the Philadelphia Suburban areas, Rick brings his signature brand of magic, DZ Magic, right to your doorstep.
---
Why Rick Dz is Montgomery County's Favorite
Customized Performances for Every Event: Rick understands that no two events are the same. Hence, he crafts a unique magical experience tailored just for you. This guarantees an entertaining show that feels personal and memorable.
Your VIP Takes the Center Stage: From birthday celebrants to honored guests, Rick incorporates a special effect into the magic show, ensuring they become the star attraction. Picture-perfect moments await, bound to be captured, shared, and cherished forever.
Versatile Magic for All Ages: Whether your audience comprises toddlers, tweens, corporate professionals, or a diverse mix at a family reunion, Rick has a trick up his sleeve. His performances cater to varying tastes and attention spans, ensuring that everyone is spellbound.
A Proven Magical Maestro: Beyond being a local favorite, Rick has been mentoring budding magicians in Montgomery County since 2005. Several of his protégés have dazzled on national stages and television. When you opt for Rick Dz, you're choosing a legacy of excellence.
Always Fresh, Always Mesmerizing: While many magicians stick to age-old tricks, Rick believes in innovation. He's continually curating and presenting brand-new magical experiences. Your event will feature acts that have never been seen before!
---
🌟 Where the Magic Happens
Whether it's Horsham, Hatboro, Warrington, Warminster, or any other part of Montgomery County, Rick's magic knows no bounds. Testimonials pour in:
"Our kids in Abington can't stop talking about Rick's magic. It's super fun and engaging!"
"The little ones in Chalfont absolutely adore magic with Rick Dz. It's the highlight of every party."
---
Turn Your Event into a Magical Extravaganza
With Rick Dz at the helm, you're not just hiring a magician; you're booking an experience that will have guests talking for years to come. Ready to embark on a magical journey?
Visit dzmagic.com and transform your Montgomery County event into a realm of enchantment! 🎩✨🐇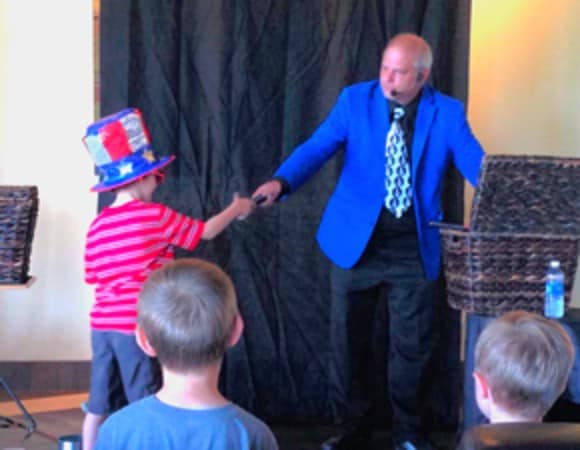 Magic Shows Designed Just for You
The magic performance at your Montgomery County event is designed especially for your event. After all, the tastes and attention span varies considerably depending on the audience. Is your audience filled with toddler, tweens, a corporate crowd, or a mixed bag at a family reunion? Not to worry - Rick will deliver a magic performance filled with unique effects and routines for every audience. You'll be assured that the show is appropriate for your event!
Expect and Hire the Best Magician
Rick has proven expertise in magic, having performed throughout the Montgomery County PA region and beyond. Rick is even respected enough that he has tutored several Montgomery County area children in magic since 2005 - and they have also gone on to win national magic competitions and TV appearances.
Unlike "hobbyist" magicians, Rick is never satisfied with just the classic tricks from yesteryear -- he's constantly creating and designing new magical presentations that haven't been seen anywhere else. Hire Rick to demonstrate these miracles at your event in Montgomery County PA and be the talk of the town!