West Point, PA Magician
West Point, PA's Enchanting Magician
Discover the magic right here in West Point with the renowned magician, Rick Dziekan and DZ Magic! For years, Rick has been the heartbeat of magical entertainment in the Philadelphia suburban area, including the charming locales surrounding West Point.
Every magical moment curated by Rick is meticulously crafted to suit your event's unique needs, promising not only a day of fun and laughter but also a hassle-free experience for you. Below, we delve deeper into the magical experiences awaiting you in West Point and the neighboring communities. And remember, Rick is just a call away to craft something extraordinarily yours!
Magic Shows Tailored Just for You
Rick takes great pride in designing magic shows that resonate with every individual at your event. Whether it's a group of toddlers, tweens, a corporate audience, or a family reunion with a diverse age range, Rick has the perfect trick up his sleeve to keep everyone enchanted. You can sit back and relax, knowing the show will be a perfect fit for your audience in West Point!
Experience the Mastery of a Seasoned Magician
Rick's reputation precedes him, with a rich history of magical performances that span across West Point and beyond. His expertise is not just in performing magic but also in nurturing young talents, guiding them to national stages and television screens since 2005.
Rick is a magician who never stops evolving. He continually crafts new magical experiences, bringing fresh and unseen magical acts to your event. Choosing Rick means choosing an unforgettable magical journey that will leave West Point talking!
🌟 Where the Magic Comes to Life
Rick's magical journey knows no bounds, reaching every part of West Point and nearby areas including Lansdale, North Wales, and Blue Bell. Here's what our delighted clients have to say:
"Rick's magic show was the highlight of our party in Lansdale! The kids were absolutely enchanted." "The magic show at our event in Blue Bell was simply magical! Rick Dz knows how to keep everyone, from kids to adults, engaged and entertained."
Transform Your Event into a Magical Wonderland
With Rick Dz at the helm, you are not just booking a magician; you are ensuring a magical extravaganza that will be the talk of West Point for years to come. Are you ready to add a sprinkle of magic to your event?
Visit dzmagic.com and turn your West Point event into a magical wonderland that will leave everyone spellbound! 🎩✨🐇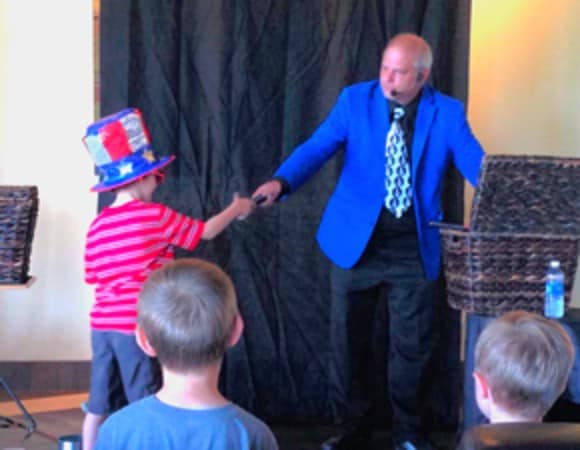 Your VIP is the Star of the Show
In every show, Rick ensures a special spotlight for your VIP, be it the birthday child, a grandparent, or a special volunteer. This segment not only creates magical memories but also offers picture-perfect moments, ready to be shared and cherished forever.
Why Rick Dz is the Heart of Magic in West Point
Personalized Performances for Every Event: Rick understands that every event is unique. That's why he crafts magical experiences that are personal, touching, and unforgettable.
Your VIP in the Limelight: Rick creates a magical world where your VIP becomes the star, creating cherished memories and picture-perfect moments.
Magic for Every Age Group: Rick has a diverse repertoire to cater to all age groups, promising a show where everyone is spellbound.
A Legacy of Excellence: Rick has been a pillar in the magical community, nurturing young talents and creating a legacy of magical excellence in and around West Point.
Fresh and Unseen Magical Acts: Rick is committed to innovation, bringing fresh and unseen magical acts to your event, promising a premier and unforgettable experience.