Warrington, PA Magician
Discover the Magic of Unforgettable Moments with Rick Dz from DZ Magic
✨ Elevate Your Warrington Event to Magical Heights! ✨
Why settle for ordinary when you can have extraordinary? Rick Dz and DZ Magic are here to make your Warrington event not just memorable, but downright unforgettable. Voted Warrington's premier magician, Rick Dz has been captivating audiences in Warrington, PA with a delightful blend of comedy, illusion, and mind-bending mental magic.
🎉 Event Planners' First Choice in Warrington 🎉
When event and party planners in Warrington need to wow their guests, they turn to Rick Dz and DZ Magic. Don't just take our word for it; ask the myriad of satisfied clients who can't stop raving about the enchanting experiences we offer.
🎈 Celebrate in Style - Birthday Parties, Holidays, and More! 🎈
Rick's magical repertoire is perfect for every occasion. Whether it's a child's birthday bash, a holiday soirée, or a corporate gathering, expect gasps of wonder, peals of laughter, and applause all around.
🎭 Custom-Tailored Shows for Every Audience 🎭
We get it—every event is unique. That's why DZ Magic tailors the show based on the age and interests of your audience. You're not just booking a magician; you're crafting an experience. Rick delivers a 100% clean, family-friendly act that balances whimsy and sophistication to a T.
📞 Ready to Create Magical Memories? Let's Get Started! 📞
The first step to a successful event is a simple phone call. Dial 215-948-2658 now and let's conjure up a magical experience your guests will talk about for years to come.
🌐 Explore Our Magical Universe 🌐
Navigate to our homepage to dive into the diverse range of magical shows we offer, or warp directly to our special section devoted to Birthday Party Magic!
📩 Contact Us Today for a Free Consultation 📩
Rick Dziekan
DZ Magic
💌 [email protected]
🌐 dzmagic.com
For inquiries, additional information, or to create your personalized magical moment, reach out to us at [email protected].
🌟 Your magical journey awaits. Book Rick Dz and DZ Magic today and transform your Warrington event into a celebration of wonder and joy! 🌟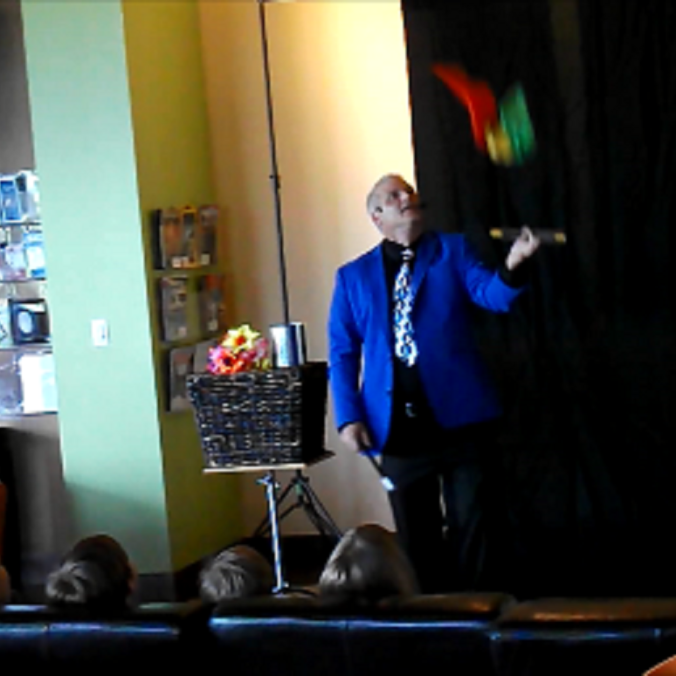 Expect Nothing Less Than Magical Excellence
🎓 Learn from a Master, Become a Master 🎓
Rick isn't just a performer; he's a seasoned magic instructor, passing down the secrets of the craft to aspiring magicians in the Warrington area since 2005. Trained by some of the top magicians in the nation, Rick embodies a legacy of magical mastery. With him, you're not just booking a show; you're booking years of expertise and innovation.
🔮 Beyond the Classic — Embrace the Extraordinary 🔮
Tired of the same old "rabbit in a hat" routine? Rick is a relentless innovator, continuously crafting new illusions and effects that are unique to DZ Magic. When you hire Rick for your Warrington PA event, prepare to witness magical feats you won't see anywhere else. Your event won't just be the talk of the town; it'll be the talk of the year!
🌟 Your VIP — The True Star of the Show 🌟
Do you have someone special you'd like to honor? Whether it's the birthday child, a cherished grandmom, a devoted volunteer, or any VIP you choose, Rick will create a moment that places them in the spotlight. Your VIP will take the stage, hands-on, to perform a magical effect, transforming them into the star of the show. Don't miss this incredible photo opportunity — a magical memory that will last a lifetime!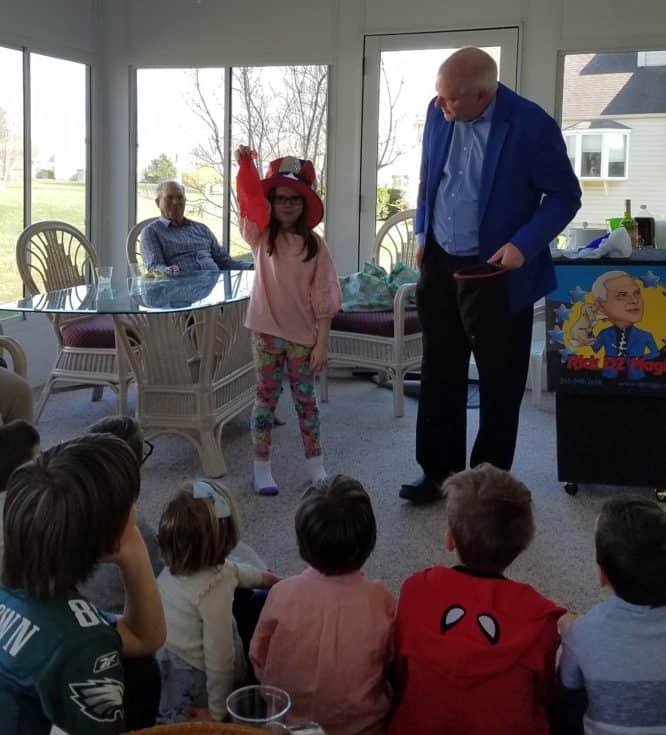 Warrington PA Birthday Party Magic Show:
The Ultimate Birthday Experience: A Magical Adventure Awaits in Warrington, PA!
🎂 Searching for the Perfect Birthday Party Idea? Look No Further! 🎂
Want to keep a room full of energetic kids not just busy, but completely captivated? Consider booking a Birthday Party Magic Show! Choose from our 30-minute or full-hour magical extravaganzas specifically designed for birthday parties.
🤩 Interactive, Empowering, and Kid-Centric Fun! 🤩
Our shows are interactive from start to finish, offering children an empowering experience where they aren't just watching magic—they're part of it! The birthday child isn't just celebrated; they are the celebration. They'll have the chance to "perform" multiple tricks and be the undeniable star of the show!
🌈 Be the Superstar Parent Your Child Thinks You Are! 🌈
By choosing a DZ Magic birthday party show, you're setting the stage for an unforgettable experience that will make you the hero of the day. Your child will relish being the star of their very own magic show, and the guests (and their parents) will be talking about it for years to come.
😂 Hilarious! Funny! Unforgettable! Mind-Blowing! 😂
Laugh-out-loud comedy? Check. Astonishing magic? Absolutely. A memorable experience that will be the highlight of your child's year? Guaranteed.